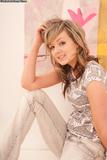 Started Modeling:
2004
Aliases:
Faye
Birthday:
07 Oct. 1983
Nationality:
England / UK
Videos:
Abi's Pussy Parties 2007 Dir: Big Jim
Carrie Goes Camping 2008 Dir: Sam Stonehill
Film Erotica has become the 'Wish You Were Here' of the porn industry, setting their films on country breaks, skiing in the Alps and on vacation in Italy. Now they've turned their attention to a less luxurious form of holiday with Carrie Goes Camping. Clark Kent has his shrunken camper van packed and it's off across the channel for some time under canvas.
He meets Carrie at a way side station and the two head off along a narrow path to a secluded spot for a picnic. Sitting in the open van door, Clark fondles Carrie's tits and lifts them out for a lick. She drops her skirt and knickers as they kiss. Kneeling, Carrie releases Clark's cock from his trousers. Wanking on the shaft, she pops the tip between her lips. Clark flops back and Carrie slowly lowers herself onto his dick to ride reverse. Shuffling round, Carrie ends half in and half out of the van as she's fucked from behind. Turning onto her back, Carrie is shagged missionary in the shade of the van. Clark stands in bright sunlight banging away. He cums over her pussy.
Wandering through fields on the way to the beach, Lacy slips and twists her ankle. Faye spreads her towel for Lacy to sit on. Rubbing her leg, it doesn't appear too serious. Faye's hands make their way to Lacy's thighs. With birds singing overhead, the girls kiss and caress one another. Lacy's summer dress falls from her shoulders. She unbuttons Faye's top. One by one, items of clothing are discarded as the pair lick at naked flesh. Faye runs her tongue over Lacy's shaven mound, then spins to sit on her face. The girls 69 in the long grass, fingering and lapping each other's pussies. Sitting half up, Lacy quivers as she orgasms. She works on Faye's fanny and makes her climax.
Carrie, Faye and Lacy sit in a French market square, watching the world go by, when the action mysteriously jumps to Clark and Annette Schwarz in an English country lane. Entering the garden of their country cottage, Annette and Clark find Carrie smoking and swigging on beer in the garden. Dragged inside, Carry is marched up to the bathroom. Carrie is ordered to strip and Clark (who the girls now call George?) is told to fuck her doggy, over the bath. Annette lunges forward and bites on Carrie's boobs while Clark bangs away. Peeling down Annette's knickers, Carrie probes her arse with a finger. Clark sits on the edge of the bath and gets the girls to ride his cock. Climbing into the bath, Annette gets filled from behind. Carrie squeezes in beside her to take Clark's shaft. Down on the floor, Annette eases Clark into her arse. He pounds away and creams over her tits.
More shots of the girls in a French town, followed by a second out of context scene. Steve Hooper meets Jewels in the garden of the cottage. He's looking for Carrie. Getting no reply at the front, they find her round the back doing some topless sunbathing, even though the weather is poor. Steve caresses Carrie's breasts as Jewels pulls his prick from his pants. Steve slips his hands into Carrie's pink bikini bottoms and fingers her. Lifting her spotted dress, Jewels sinks down on to Steve's dick. He buries his face in Carrie's muff. The girls swap places, pinning Steve to the ground. Next, they both kneel on the table as Steve takes them doggy. With Carrie and Jewels covered in goose pimples, Steve jerks his load over their tits.
Back in France, and the three girls are having problems with their tent. Clark offers to give them a hand with the pole. Lacy has her eye on something else long and stiff. While Carrie and Faye play with each other's bodies, Lacy pulls down Clark's jeans to take mouthfuls of cock. With rain spattering the camera lens, Lacy and Clark 69 in the tent. She slides down his body and sits on his cock. Carrie takes her place on his face. Keeping dry under canvas, the girls stumble round. Carrie takes her place on Clark's cheb and Lacy pushes her pussy towards his mouth. Faye misses out on dick, preferring to finger fuck her fanny. Unable to hold back any longer, Clark shoots his spunk over Lacy's pussy. Carrie massages in the jizz.
I thought Film Erotica had turned the corner and were starting to produce some good work. With Carrie Goes Camping though, they take one step back. While they deserve credit for introducing new girls to our screens, and the stuff is decently shot, the overall impression is of a film cobbled together. A few scenes from sunny France and a couple where the girls are freezing outside among the daffodils in England, means that the film has no flow or continuity.
Review by Dawn "Hot Totty" Birtle
Faye 2007 DVD
Faye Cums Again DVD
Faye's Orgasms 2009 DVD
A Week in Provence 2009 Dir: Sam Stonehill
Having taken holidays in the Alps, Italy and a cold Cornwall in spring, the latest destination for the globe trotting Film Erotica team is Provence. Unlike Peter Mayle who took a year to become accustomed to the ways of the region, Faye, Jasmine Lau, Kimberly Cox, Syren Sexton and Tanya Cox only spend a week there - shagging.
Opening the door to her secluded cottage, Syren finds Steve Hooper on the step with a box of wine. Home alone, Syren asks Steve to pop the wine into the bedroom. He grabs Syren and the two fall onto the bed. Her protests are quelled by Steve's kisses. Noticing a bulge in Steve's pants, Syren pounces and his cock is quickly in her mouth. Pulling her panties aside, Syren slides down Steve's shaft. The pair bounce on the bed with Steve biting her boobs. Lying flat on her stomach, Syren laughs and giggles as Steve stabs into her pussy. Rolling over, her cheeks look flushed. Steve continues to bang away missionary, pulling out to cover Syren's face with cream.
Keni sits on a hillside, contemplating, when he spots Tanya heading into the woods to go mushrooming. He follows her down the steep path and hides behind a tree. She spots him and the two get chatting. Keni is writing poetry and the sight of Tanya has helped his muse. For more inspiration he lifts her lemon top and licks at her boobs. Tanya drops her shorts to reveal a green micro bikini. Unzipping Keni's pants, Tanya wanks and guides his dick into her mouth. The two fall onto a handily spread red towel. In the bright sunlight, Keni slides his cock into Tanya's pussy. They turn onto their sides. Keni plays with her tits as they fuck. Tanya takes control. Casting her bra aside, she mounts Keni's prick. Screwing round, she rocks back and forth. Kneeing before Keni, Tanya opens her mouth and he shoots his load over her face.
Jasmine and Syren wander across the field next to their cottage intending to do a little sun bathing. They spot Keni under a tree scribbling in his book. Placing a towel by his feet, the girls spread out in their bikinis. Keni moves on. They follow, grabbing his cock when they catch him. The two lick and suck. Syren drops her bikini bottoms, uncovering a triangle of white flesh above her sunburnt legs. Keni laps and fingers. Bending, Jasmine holds her fanny against Keni's face so he can lick. With Jasmine fondling her body, Keni fills Syren from behind. Swapping places, it's Jasmine's turn to have her pussy probed by Keni's prick. She gets Syren to sit on her face. Syren takes her place on the towel. Keni slips in between her legs. Ready to cum, he sprays Syren's tits with spunk. Jasmine massages in his jizz and licks her fingers.
After showing Clark around the stables, Kimberly wakes up in bed beside Faye. She never has any luck with boys. Faye caresses her body to console her. Pulling at their knickers, the girls stroke pussy and play with each other's pert boobs. A knock on the door halts proceedings. Clark has called to see Kimberly. Faye excuses herself and leaves. Sitting on Clark's lap, Kimberly lets him lick at her bare breasts. She moves to suck at his shaft. Clark peels down her panties and the two 69. Lowering herself onto Clark's cock, Kimberly rides him cowgirl. She falls forward to be taken doggy. Kimberly tells Clark she wants to try anal. He eases his dick into her arse spoons as he plays with her pussy. Kimberly's got a liking for it and drops on all fours to be fucked up the bum. Clark cums on her back.
The five girls are out for a walk when they meet Clark, Keni and Steve. The boys know a secluded spot in the woods. As the sun slowly sinks, the group strip off and indulge in cock and pussy sucking. Jasmine, Kimberly and Syren pair up with the boys while Faye and Tanya try some girl-on-girl fun. Changing partners, the mass of bodies rocks and writhes, the camera zooming into and out of the action. With shadows lengthening, the boys shower the girls with their spunk.
A Week In Provence appears to be a film shot with very little planning so far as script or story goes. The linking sections between the scenes, which normally drive the action forward, have little or no relevance to what's gone before or after. At the beginning of the week Syren is alone in her gite while her parents are out. Half way through the holiday she's sharing with four other girls. As with the other holiday based films, Sam Stonehill has attempted a natural look with little or no lighting. In Tanya's midday session with Keni this creates harsh shadows, which make it difficult to see the action. The final scene is also dogged by failing light. On the up side the film does introduce some new girls, but they are let down by mediocre production.
Review by Dawn "Hot Totty" Birtle
WebSites:
Faye @ Karups PC (solo)
Faye @ Teen Dreams (solo)
http://tour.teendreams.com/cms/model/view/i=3628
FayeX @ Nubiles.net (solo)
http://www.nubiles.net/fayex.html
I included two reviews of two of the Videos above. I realize this Model hasn't done much, but apparently her work at Nubiles and Karups PC was done or released in 2009, which leads me to believe she is still active.
Info Source:
http://www.bgafd.co.uk/actresses/details.php/id/f0040